Verifi Smart.Safe. Fast Access Biometric Safe with FBI Fingerprint Sensor Review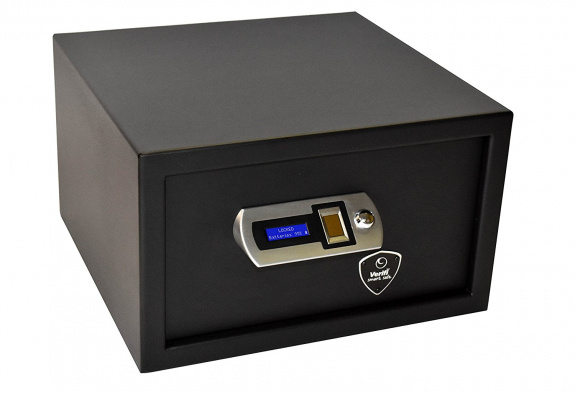 Editor rating: 5/5
A combination of a reliable fingerprint scanner and reliable battery life is a lethal weapon and is more than enough for us to give the safe a rating of 5/5.
The fingerprint scanner is FBI certified. It features 3D imaging that covers a large area of your fingerprint which is why it is accurate and identifies a fingerprint easily which makes it very reliable when you need your gun under stress. You could get your gun quickly without having to swipe your finger several times.
The safe does not eat up your battery as it is designed specially to lower power consumption while keeping the level of power adequate to maintain optimum performance for the fingerprint scanner, interior lights, and so on.
The fingerprint scanner is so reliable that you don't need to program an access code as a backup. Besides, if the fingerprint scanner works, why would you still want to memorize an access code? A cross cut backup key is more than sufficient for backup access.
Other than the fingerprint scanner and amazing battery life, another notable feature of this safe is its LCD display and built-in User Management. Through the LCD display, you could program your fingerprint and set up the whole thing through the Enrollment Setup Wizard. Because of the wizard, you could set up the safe in about 5 minutes without a manual. The User Management allows you to adjust the settings anytime. This includes adjusting the intensity of the interior lighting and more.
Furthermore, the safe has an access and event log saving all activities including unauthorized attempts, failed reset attempts, and more. All of these logs are timestamped and saved in a flash memory keeping all the information safe even if you remove the battery.
The safe also provides sound notifications for important alerts and reminders such as battery levels. For more details about this, please read further below.
Advantages and disadvantages
Mountable
Solid steel construction
Enrollment setup wizard
Add up to 40 fingers
Ability to name each user
Add/delete user
Fingerprint scanner is extremely fast and accurate
Fingerprint scanner is FBI certified
CA DOJ approved
Keeps an access log including unauthorized attempts
Timestamped events
Tamper alerts
Flash memory
2 cross-cut backup keys are secure
Keyhole is hidden behind the name plate
Autolock
Interior light
Low power consumption
Constant performance even when batteries are depleted
Self-check feature
LCD display
No age limit
Great customer service
Steel wall could be a little thicker and heavier
Rubber mat is at the bottom only
Does not spring open when you unlock it
Internal light stays on for maximum of 5 seconds
Features
FINGERPRINT
What sets this safe apart is its fingerprint scanner. Most of us believe that fingerprint scanners will take several seconds and attempts to identify a fingerprint which is why most companies add a keypad and keys as backup. But the truth is, you can have a more reliable fingerprint scanner.
Unlike other safes that use optical sensors, this safe uses an FBI certified silicon-based fingerprint sensor that covers a large area which is why it identifies a fingerprint accurately and quickly.
The fingerprint scanner of this safe is so reliable that a keypad is no longer needed. In fact, having a keypad will only give another person a chance to actually guess your access code.
The safe can store fingerprints of 40 individuals or 10 individuals (4 fingerprints each).
USER MANAGEMENT
You don't need a manual to set up the safe. It has an Enrollment Setup Wizard that will walk you through in storing fingerprints and adjusting other settings such as the intensity of the interior lighting. This walk-through is going to be shown to you through the LCD display including the battery level.
It also has a built-in User Management so that you don't need a wifi or Bluetooth to adjust the settings. You can customize usernames, add or delete individual users, view access and event logs including unauthorized attempts and failed reset attempts (logs are saved and timestamped).
All these information are saved in a flash memory so that you won't lose your preferred settings if it is time for you to replace the batteries.
SELF-CHECK
The safe checks itself regularly and notifies you of the results when necessary even on sleep mode. Results include unauthorized attempts to access the safe, battery level, and more.
Three-levels of battery notifications:
<25% battery - The safe will beep only when using
<20% battery - The safe will be on Alert Mode and schedules series of audible beeps throughout the day and night
<15% battery - The safe will be on Alarm Mode. Even in this mode, the safe can operate for several weeks.
Snooze Feature - Snoozes once you acknowledge the low battery condition
LOCKING SYSTEM
First, you can lock the safe in one place by actually mounting it on a floor, wall, or furniture if you do not want anyone to easily carry the safe away from you.
Second, the safe auto locks when the door is closed. It senses when the door is closed and automatically locks it. This saves you the hassle of actually having to press a key just to lock the safe.
Third, it comes with a backup cross-cut key which is not your ordinary type of key. Instead of a code for backup access, the company believes that the safest way for backup access is through a specialized key.
Finally, the safe has two 20 mm locking bolts 3/4" which makes this safe not easy to pry into.
INTERIOR
The safe has an interior light that softly illuminates with low intensity when you open the door to prevent it from blinding you. In case you want the intensity of the light adjusted or turned off, just adjust the settings through the LCD display.
POWER
The battery life and power of the safe is one of the best among the safes that we've reviewed so far. It requires four AA batteries that are long-lasting and could continue to power the safe for 2-3 years.
The company features the picoPower and Boost power engineering that lowers the power consumption of the CPU allowing it to continue operating for several years with a single set of two AA batteries while maintaining cutting edge performance even when batteries are nearly depleted.
DIMENSIONS
External size:
S5000 (W)13.2" x (D)13.8" x (H)7.9"
S6000 (W)17.4" x (D)16.1" x (H)7.9"
Internal Dimensions:
S5000 (W)13.0" x (D)9.5" x (H)7.3"
S6000 (W)17.1" x (D)11.8" x (H)7.3"
Weight:
S5000 23.4 lbs
S6000 31.4 lbs
Front opening:
S5000 0.52 cu ft
S6000 0.85 cu ft
Safe Door: 4mm, approx. 8ga.
Safe Walls: 2mm, approx. 14ga.
Frequently Asked Questions
Does the finger sensor light up?
How loud or quiet is the safe when it opens?
is it fire rated?
How many fingerprints can I program in the safe?
How long is the battery life?
How am I informed about the status of the battery?
Is it mountable?
Where is the keyhole?
Does it have an age limit?
Do you lose the settings when you remove the battery?
Does it have an internal mat or pad?
What type of battery does it take?
Does the key work even without power?