9 Best Gas Grills for 2022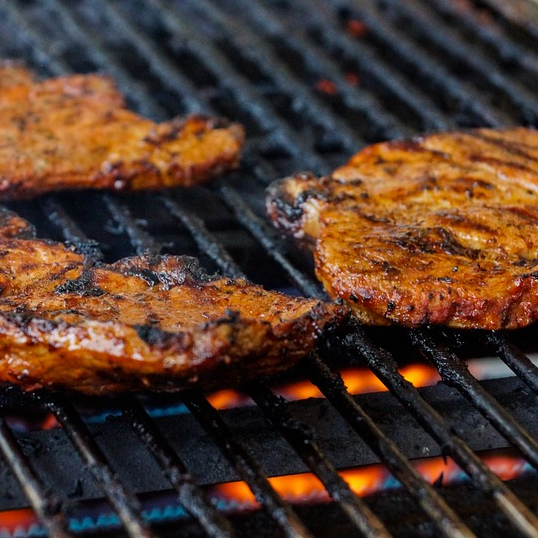 Gas grills are the most popular type of grills because they are easy to fire up and you don't need to worry about charcoal clean up. Some say that food cooked on charcoal grills just taste better than when you cook them on gas grills. But, what some people don't know is that there are several simple ways to add flavor to food that is cooked on gas grills.
We did our research and narrowed down our list of gas grills to just 9. These are the best we can find and they all come in different designs, sizes and forms giving you more options on what kind of gas grill is best for your home or outdoor activities.
GRILL TYPE
(Cart, table top, mountable, built-in, and foldable stand)
Most these gas grills are on a cart with wheels so you can easily push them around in your backyard. We have two table top grills that are easy to store in your vehicle if you want to take it with you for camping and other outdoor activities. One table top gas grill can be mounted on a pedestal or boat railing. There is also a portable gas grill with a collapsible stand so you can easily set it up anywhere. We also have a built-in gas grill that is a perfect add-on to your kitchen. While most of us are used to rectangular shaped gas grills, we have a cylinder-shaped gas grill on our list which looks great and provides a unique yet very effective way of cooking.
BASIC PARTS
Gas grills have 1-4 burners, heat tents that protect the burners from food drippings, cooking grates which are usually made of porcelain enameled cast iron, grease tray, grease cup to collect grease and for easy cleaning, ignition starter to easily fire up the grill, and knobs for temperature control.
FUEL TYPE
These gas grills especially the big ones are usually powered by Liquid Propane refillable gas tanks. The smaller ones are more flexible in terms of fuel as they can either be powered by refillable gas tanks as well as portable gas canisters. All of these gas grills may be converted to natural gas however only the Lion 32 Inch Stainless Steel Propane Gas Grill On Cart has a kit for natural gas conversion. Unless a gas grill has this kit, we don't recommend people to convert their gas grills to natural gas on their own for safety.
COOKING CAPABILITIES
Gas grills of today are not only used for grilling. Some of the gas grills on our list have several cooking capabilities. One of them has a side burner for heating a pan or pot while you're grilling. Some of them can be set up for rotisserie use. Most of them have a warming rack. The Lion 32 Inch Stainless Steel Propane Gas Grill On Cart has a complete rotisserie kit, a smoker box for heating wood chips to add flavor to your food, and a griddle plate which can serve as a side burner where you can fry or heat a pan.
OTHER FEATURES
The gas grills we've selected comes with features like gas cabinet compartment, side tables, and temperature gauge. Other unique features are handles that can serve as lid racks, a snap on serving tray with a built-in cutting board, LED interior light for late night grilling, tool hook, towel bar, built-in bottle opener, and griddle remover.
Here's the list of gas grills and their corresponding ratings. Click on the gas grill to get further details for each one of them.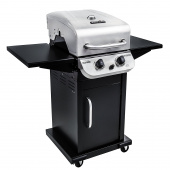 Grilling doesn't have to be complicated. This low-cost grill provides both functionality and simplicity in a grill. It doesn't have those additional fancy features that other grills have but it does its job. It is small and can easily fit in small decks or backyard.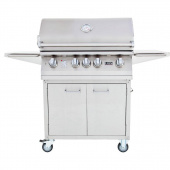 Fully packed with features - the Lion 32 Inch Stainless Steel Propane Gas Grill On Cart is made of high grade of stainless steel that will last for several years. This is the only grill in our list that comes with a complete rotisserie kit, a smoker box, and an interchangeable griddle plate. You may use it with a cart or attach the main grill to your kitchen counter. If you are willing to pay more in exchange for longer lifespan and usage, I would recommend this grill. For the price, this grill is worth it.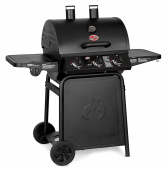 The only grill in our list with a side burner. Plus, you could tell from the way it looks and feels that this grill is made of heavy duty materials. It is durable and will definitely last longer than any other grills. It has excellent, flexible cooking abilities and for the price, you just can't get a better grill than this.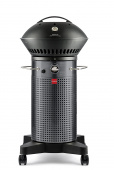 Not like most gas grills - uniquely designed and well-thought out. The Fuego Element F21C Gas Grill provides excellent convection-like cooking, can be used for both direct and indirect cooking. The circular domed lid allows for proper circulation of heat through the grill. You can also get a kit for natural gas conversion. It has 2 handles on the side that also serves as lid racks.
Made specifically for boats, the Magma Products, A10-803 Connoisseur Series ChefsMate Portable Gas Grill is rust resistant and wind tested. It also has a lockable lid and can be mounted on a pedestal or boat railings to keep it secured especially when ocean waves are strong. It several other features. Please click here to get full details.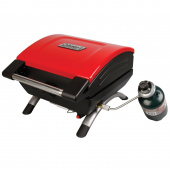 Are you looking for a small grill? We recommend the Coleman NXT Lite Table Top Propane Grill. It is portable and can also sit beautifully on your kitchen counter. For the small grill, it produces plenty of heat and maintains heat even in a windy weather you can rely on to cook your food anytime, anywhere.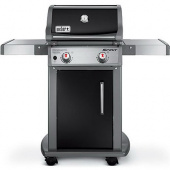 High-quality materials equal long lifespan - Weber is a well-known maker of the best, long-lasting grilling products. The Weber 46110001 Spirit E210 LP Gas Grill is no different. It is a little pricey but we recommend it for anyone who is willing to spend a bit more for a high-quality grill.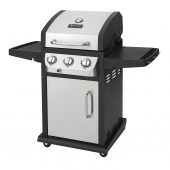 If you don't want to break the bank for an expensive Weber grill but at the same time you don't want to waste your money on a cheap poor quality gas grill, this grill is your best choice. The Dyna-Glo Model # DGB390SNP-D Gas Grill is a perfect compromise between high-end and low-end gas grills. For the price, the grill needs a little refinement but overall it is a good grill.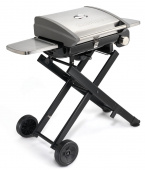 Are you always on the move? Take this low-cost portable Cuisinart CGG-240 Gas Grill with you and fuel it up with an easy-to-use, small gas can. This is ideal for outdoor activities and for those who live in tiny houses or mobile homes like RV.
IN CLOSING
Overall, the Lion 32 Inch Stainless Steel Propane Gas Grill On Cart is the most superior gas grill among the gas grills we reviewed. It is pricier than the rest however it is made up of a thicker gauge of steel and comes with the most number of accessories. With all advantages, I must say that this grill is sold less than what it is worth.
I would recommend the Magma Products, A10-803 Connoisseur Series ChefsMate Portable Gas Grill for boaters, for those who live near the ocean, and for those who are looking for rust resistant table top gas grill.
If you are looking for a stylish table top gas grill for your kitchen, we recommend the Coleman NXT Lite Table Top Propane Grill. Aside from kitchen use, you can also use it for outdoor activities because it is lightweight and has a compact size.
It is quite challenging to find a flat surface for a grill when you are camping or traveling. We recommend the Cuisinart CGG-240 All Foods Roll-Away Gas Grill since it is lightweight, compact, and has a collapsible stand that is easy to pop open for grilling and easy to fold for storage.

If you prefer round grills, we recommend the Fuego Element F21C Carbon Steel Gas Grill LP. It is stylish and neatly constructed. Because of its shape, it creates a convection-like cooking that makes it an excellent cooker ideal for both direct and indirect cooking.
For those who are looking for a gas grill with a side burner, we recommend Char-Griller 3001 Grillin' Pro 40,800-BTU Gas Grill. It has this antique-style that looks attractive especially in a backyard garden. 
What makes Charbroil, Dyna-Glo, and Weber gas grills different from each other? If you are looking for an inexpensive gas grill cart that cooks well, we recommend the Charbroil Gas Grill. If you are looking for that grill that strikes a balance between a low-end and high-end grill, we recommend the Dyna-Glo Gas Grill. If you are looking for gas grill made by a reputable grill manufacturer, we recommend the Weber Gas Grill.
I hope this helps sum up the qualities and features of these gas grills. If you need further details for each grill, please click on "Read full review". All the best and happy grilling!