HomCom 14" x 12" x 20" Digital Home Security Storage Safe w/ Biometric Fingerprint Scanner - Black Review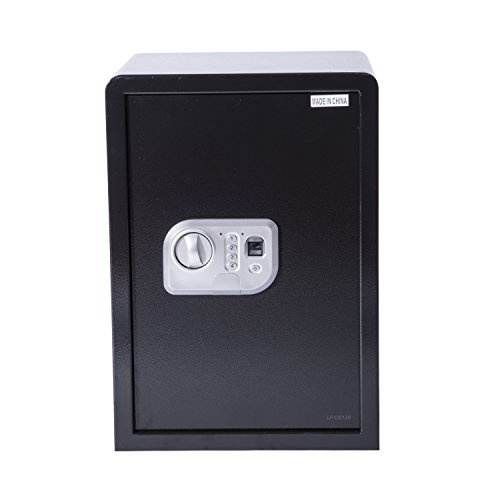 Editor rating: 4/5
For those who are looking for an inexpensive roomy safe with a shelf, the HomCom Digital Home Security Storage Safe is for you. It is simple but it has all the basic features you need in a safe.
It is the biggest and heaviest among all the safes that we reviewed so far. Its outer dimension is 14 x 12 x 20 inch while its inner dimension is 13 x 11 x 19.5 inch. The weight of the safe is 36.7 lbs. 
It won't be easy for a burglar to move the safe out of your house because of its weight and it won't be easy for them to pry it open either because of its thick door and walls. The door is 4 mm thick while the walls are 2 mm thick.
You could store up to 32 fingerprints. And if your main purpose is just to keep documents and other valuables away from unauthorized individuals, this safe is good enough for you. You could use it to store important items such as documents, money, pieces of jewelry, passport or even your gun. However, please note that this safe is not fire or water proof.
Please continue reading to check out its other features.
Advantages and disadvantages
Batteries included
Roomy
Removable shelf divider
Mountable (bottom and back)
The safe looks nice and smooth.
Comes with 2 backup keys
Store up to 32 fingerprints
Thick door
Light indicator to let you know if the code is accepted or not.
Features
The safe is made up of solid steel that looks slick. It is thick enough to withstand breakage or strong impact from heavy objects.
It has 4 holes at the bottom and another 4 holes at the back to ensure that the safe is securely mounted to any surface such as furniture, floor, or walls.
On the front door, you will see the fingerprint scanner, keypad, and keyhole. The fingerprint scanner is the fastest way to access the safe. With a swipe of your finger, you will be able to access your valuables.
You could also use the keypad but in case you forget the code or replace batteries, you could use the key ensuring that you will be able to access your items when you need them.
THE NUMBERS
Outer dimension: 14"L x 12"W x 20"H
Inner dimension: 13"L x 11"W x 19.5"H
Weight: 36.7 pounds
Wall: 2mm
Door: 4mm
Pre-drilled holes: 4 holes (bottom) and 4 holes (back)
Fingerprints: 32
Keys: Two
Batteries: 4 AAs
The inside of the safe is very simple. It is vey spacious with an adjustable shelf so you can organize your belongings neatly inside the safe for easier access.
An unexpected feature that this safe has considering its price is a light indicator that lets you know if the code is accepted or not.
Overall, this safe is simple yet effective for keeping your valuables away from other people's hands.
Frequently Asked Questions
Is the divider shelf removable or adjustable?
Is it big enough to store documents?
Is it fire or water rated?
What is the outer dimension of the safe?
What is the inner dimension of the safe?
What is the weight?
How thick are the door and the walls?
How many fingerprints can I store?
How many pre-drilled holes are there and where?
What kind of batteries should I use and how many?