Dyna-Glo DGB390SNP-D Smart Space Living 36,000 BTU 3-Burner LP Gas Grill Review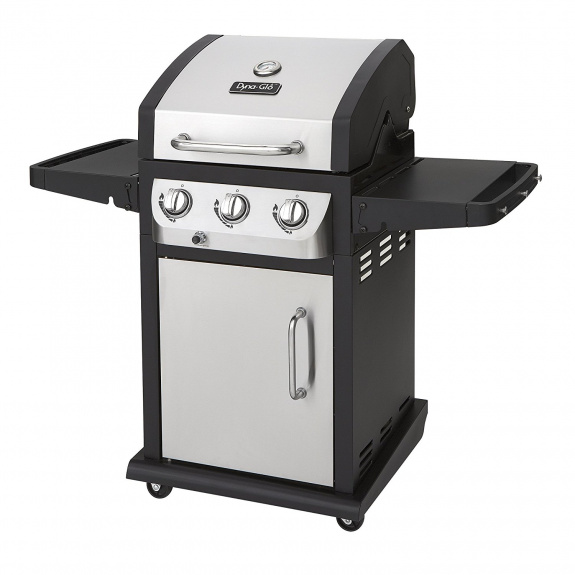 Editor Rating: 4.5/5
The design is well-thought out, attractive, and a space saver. It is ideal for those who have a small deck space. It is hard to find a small grill with 3 burners that heat up fast up to 600 degrees and cooks evenly. It may not feel as solid as the bigger, more expensive grills but the gauge of the steel used for this grill is certainly sufficient for its size.
To prolong its lifespan, we recommend removing the grates, drip pan, and grease pot to clean them as well as the other parts in the grills that are exposed to grease. We also recommend touching up the grill once in a while when paint cracks off to bare metal to make it more rust resistant. You can also line up the drip pan with aluminum foil to make it last even longer. For most grills, rusting is a common issue and taking these steps can help protect its parts from rusting.
If you want your food to have the charcoal essence that charcoal grills give but do not want to go through the hassle of cleaning up a charcoal grill, you could instead opt for a gas grill since they are easier to clean. Just put a pan of soaked wood chips or add a small aluminum foil bag full of wood chips in the gas grill to let its essence spread into the food you are grilling. 
Advantages and disadvantages
Perfect compromise between high-end and low-end grill without breaking the bank
Quick starter push button
Easy to operate
The unit is ready to rotisserie use.
Cooks fairly evenly without cool spots
Warming rack
Can be converted to natural gas however not recommended by the company
Heats up fast
The propane tank locks in the bottom
The wind does not affect the grill
The drip pan is broad, slides out for easy cleaning, and funnels into a removable cup
Portable with 4 wheels and 2 locking casters
Makes nice grill marks
Has a solid feel
Built-in thermometer
The grill has enough cooking space
Perfect for those with limited space.
All parts are easy to access, remove, and clean
Easy to assemble
The company provides an easy link to the PDF copy of the manual on their website
Design is attractive
Folding shelves with hooks and towel bars
Easy to get used to adjusting and balancing the heat with the control valves
The cover is bought separately
Shorter life span compared with more expensive gas grills
No side burner
The finish may easily crack or flake off
No handle to steer it around
The images in the instructional manual are all back making it quite hard to understand.
If you don't want to break the bank for an expensive Weber grill but at the same time you don't want to waste your money on a cheap poor quality gas grill, this grill is your best choice. The Dyna-Glo Model # DGB390SNP-D Gas Grill is a perfect compromise between high-end and low-end gas grills. For the price, the grill needs a little refinement but overall it is a good grill.
SPECIFICATIONS
Brand: Dyna-Glo
Model: DGB390SNPD
Gas type: Liquid Propane (20 lbs tank)
Burners: 3 burners
Heat: 12,000 BTUs for each burner (Total: 36,000 BTUs) or 600 degrees in 6 minutes
Weight: 76 pounds
Material: Steel
Color: Stainless Steel
Finish: Silver and black
Grates: Porcelain-enameled cast iron
Heat tents: Porcelain-enameled steel
Warming rack: Yes
Includes: drip pan, drip cup, built-in thermometer, 1 AAA batteries and 4 wheels
Sold separately: Custom fit Dyna-Glo premium cover with easy lift handle
Pre-assembled: Firebox which includes the main grill, burners, hood, and regulators
Needs assembly: The stand or base of the grill which includes the side shelves, cabinet door, etc.
Ave. hours of assembly: 45 minutes - 2 hours
Dimensions: 22.82 x 49.14 x 45.05 inches
Dimensions of the grill surface: 18"D x 22"W
Dimensions of the warming rack: 6"D x 20"W
Dimensions of the base: 24"W x 22"D
Dimensions if the side shelves are folded down: 29-30" inches
Customer service: 877-447-4768 or email http://www.ghpgroupinc.com/CTUS.html
Features
TOTAL CONTROL AT YOUR FINGERTIPS
The grill is easy to operate. It utilizes an electronic pulse starter ignition system that is powered by an AAA battery to help you start up the grill quickly with just a push of a button.
It has chrome-plated control valves to help you adjust the heat for each burner and balance the heat across the grill surface.
BRING THE HEAT
The top of the grill which includes the main grill, burners, regulators, and the lid are all pre-assembled so only the base part of the grill needs assembly when you receive the package.
The grill has 3 straight-tube burners that deliver 12,000 BTUs each for a total of 36,000 BTUs for all three burners. This helps quickly distribute high heat steadily and fairly evenly across the grill surface. But just to set your expectations the rear and right side of the grill gets hotter than the other sections of the grill but definitely without cool spots and certainly better than most grills.
The heat tents are made of heavy gauge steel that are porcelain enameled. They effectively protect the burners from the grease while you are grilling.
The cooking grates are made of porcelain enameled heavy gauge cast iron which is basically the kind of material we want as it is durable and could retain heat. It also makes nice grill marks and has a warming rack on top of it to provide enough cooking space. Additionally, the grill is also ready for rotisserie use.
The lid is made up of stainless steel and double-walled so it can retain heat. On top of the lid is a built-in stainless thermometer for easy-to-read gauge and accurate temperature control.
BODY
The body or base is the only part of the grill you need to assemble. Although the images in the instructional manual are all black, I would still consider the whole assembly process easy. You can set up the whole thing all by yourself with a screwdriver in 45 minutes to 2 hours which is not bad. However, you may need assistance in putting the grill assembly on top of the body. If you have access to a computer and the internet, you can go to the company's website to see a colored version of the instructional manual.
The cabinet is made up of stainless steel. It has a double-wall door with a magnetic latch and large open at the back for easy cleaning and easy access to the tank. The broad drip pan catches the grease, funnels into a cup, and slides out for easy cleaning.
The 2 folding side tables are collapsible or can be dropped down to easily fit smaller space and for easier storage. Each side table can handle up to 25 pounds of containers and ingredients. They also have a towel bar and took hook to hang towels and cooking tools. Check out the video on this page to see how it works.
The grill has 4 multidirectional wheels to easily move it and turn it around however you like. Two of the wheels has casters so you can prevent it from moving after you park it on your deck or kitchen. It's largely an outdoor kind of equipment but you can also put it in your kitchen because it is not that big and it has an attractive design that can blend with your kitchen.
You can purchase the Dyna-Glo premium cover separately to reduce rust over time and prolong its lifespan. Although this grill is quite cheap and may have a shorter lifespan than more expensive grills, you can prolong its lifespan by maintaining its parts and using it with utmost care.
Frequently Asked Questions
What is the width of the grill with the side shelves folded down?
Does it have a removable tray?
What are the dimensions of the grill surface?
What are the dimensions of the warming rack above the cooking grill?
Can it be converted to natural gas?
Can you use rotisserie with the grill?
What are the dimensions of the base?
Does it come with a propane hose?
How hot can it get?
How big of a propane tank will fit inside the cabinet?
What is the base of the grill made of?
How to contact customer service?