Weber 46110001 Spirit E210 Liquid Propane Gas Grill, Black Review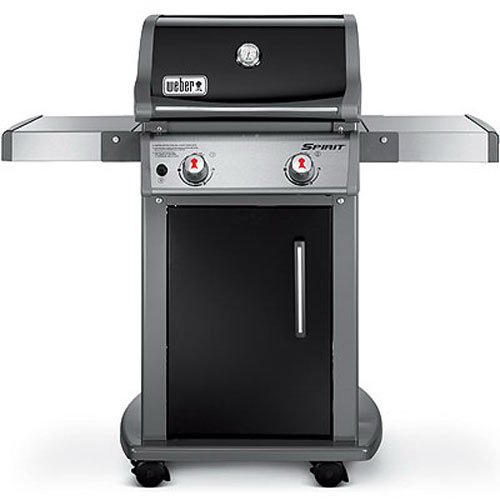 Editor Rating: 4.6/5
High-quality materials equal long lifespan - Weber is arguably the most popular name when it comes to making some of the best long-lasting grilling products. The Weber 46110001 Spirit E210 LP Gas Grill which is what we will be reviewing today is no different. It is a little pricey but we recommend it for anyone who is willing to spend a bit more to get a high-quality grill.
Although the fuel gauge is a useful feature in determining where you stand on fuel, I find it awkward and difficult to actually hang the fuel tank on the hook. You can easily work around this though by placing a piece of plywood in the cabinet so that the tank can rest flat on the cabinet floor. 
Nonetheless, most of the components feel solid especially the cooking grates, you could tell that it is made of a heavy duty material. All the components attach to each other perfectly making the overall look solid, attractive, and not flimsy when moved.
Advantages and disadvantages
Easy to assemble
Instructions and images are clear
Firebox and gas line assembly are pre-assembled
Compact size
Sturdy base
Long lifespan compared to most grills
Low maintenance
Great looking grill
Built-in thermometer
2 fold down side tables
Enclosed steel cabinet with door
Grease tray with catch pan
2 swivel front-locking casters and 2 swivel back casters
Fuel gauge
6 tool hooks
Owner's guide and grilling guide
Cookbox is made largely of cast aluminum
2 stainless-steel burners
Cooking grates made of heavy duty porcelain-enameled cast iron
Flavorizer bars made of porcelain enamel
Porcelain enameled shroud opens smoothly on its hinges
Provides 26,500 BTU per hour
Evenly heats cooking surface
Leaves nice grill marks
Provides plenty of cooking space
Can be set up for rotisserie use
Easy push electric starter button
You can fine tune the heat levels
Easy to clean
Great customer service
Does not come with a cover
No side burner
Quite hard to hang a full propane tank onto the scale's hook
Unable to ignite either burner individually
Features
The grill is pretty easy to assemble however the whole process could take up to 2 hours. The unit comes with concise instructions with very clear images. The firebox and gas line assembly is pre-assembled, so only the base requires assembly on your part.
The cookbox is made largely of cast aluminum that is durable and feels incredibly solid. You can tell that the grill is made up of high-quality materials.
It has 2 stainless-steel burners that provide 26,500 BTU per hour and evenly heats up the grilling surface. On top of the burners are flavorizer bars that are made of porcelain enamel that catches drippings to protect the burners and also vaporizers it to add flavor to your food.
The grill utilizes heavy-duty cooking grates that are made of porcelain enameled cast iron that heats up evenly and leaves nice grill marks on whatever you're grilling.
SPECIFICATIONS
Brand: Weber
Model: 46110001
Dimension (lid open): 32L x 50W x 63H inches
Weight: 114 pounds
Stainless-steel burners: 2
Cooking grates: Porcelain-enameled cast iron
Flavorizer bars: Porcelain-enameled
Lid Finish: Porcelain-enameled steel
Heat: 26,500 BTU/hour
Batteries: 1 AA battery required (included)
Fuel: 20-lb Liquid Propane tank
Primary cooking area (square inches) - 360
Warming rack area (square inches) - 90
Total cooking area (square inches) - 450
Includes: Thermometer, 2 fold down side tables, enclosed steel cabinet with door, grease tray with catch pan, 2 swivel front-locking casters, 2 swivel back casters, fuel gauge, 6 took hooks, owner's guide and grilling guide, with limited warranty
The porcelain enameled shroud effectively circulates heat inside the grill, has a built-in thermometer for temperature monitoring, and opens smoothly on its hinges.
To start up the grill, just push the electric starter button which is powered by an AA battery included in the package and the grill starts instantly. You can replace this battery easily as it is pretty cheap and available in many stores. You can adjust the heat level to your preference by using the burner knobs.
Below the main grill is the enclosed steel cabinet with a door where you'll see the grease tray with catch pan. The cabinet is also where you'll hang a 20-lb liquid propane tank into a hook that serves as a fuel gauge letting you know where you stand on fuel. Overall, all components of the grill are accessible and easy to clean. Additionally, the package comes with a grilling guide and if you need any help or questions about warranty, Weber provides great customer service.
Frequently Asked Questions
Is there a kit to convert this to natural gas?
Can I take off the side shelves?
Is this difficult to assemble?
Can I put a wood chip pan or box on the grill?
What is the clearance from the cooking grates to the lid?
What do you clean the grates with?
What is the dimension of a single cast iron grate and flavorizer bar?
Can I connect the grill to a propane gas line?
Can I set this up for rotisserie use?
Does it come with a cover?
What is Weber's hotline?
Does it come with a gas tube?