Char-Griller 3001 Grillin' Pro 40,800-BTU Gas Grill Review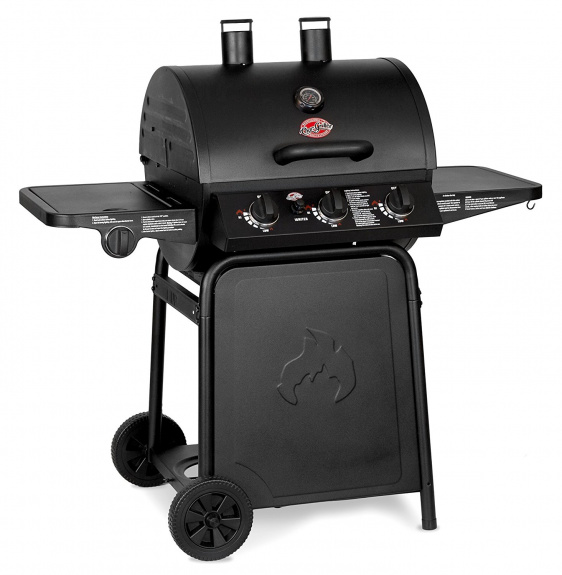 Editor Rating: 4.9/5
"You just can't get a better grill for this kind of money."
We would have given it a 5-star rating for those people who are not really looking for the best grill and are more concerned with the price. Those who don't mind the small flaws but cares more about cooking performance and the ability of the grill to stay useful for several years.
But since it does have flaws and just to be fair to those brands that make near perfect gas grills at a higher price, we gave this grill a final rating of 4.9/5.
The reason why the rating is still high despite the flaws is that its flaws aren't too bad and can easily be worked around.
For example: the side tables are unfoldable, side burner is fixed on the left side, the stacks may take some space when you open the lid -- these are small flaws but I can ignore them because I can easily work around these flaws by just finding a larger space or by moving it around since it has wheels.
The main reasons for the rating are the following:
First, it can be difficult to get a lower temperature out of this grill although you could get used to it. It's better to have a grill with high temperature than the ones who could only give off a low temperature.
Second, it is difficult to reach the gas valve to turn it on/off because the propane tank compartment is too small and tight. It is inconvenient but rest assured, the gas valve can definitely be reached it's just that it wouldn't be that simple especially if you have large hands. Some people work around this by putting the gas tank outside the grill cabinet.
Third, taking out the grease pan to clean it and putting it back is quite a difficult process because the grill has a tight body and the front panel is right in front of it. It can be pulled out but it isn't going to be a smooth, easy task to do.
For me, these are little things and when you are on a tight budget, you wouldn't mind these small hassles. The most important thing is that the grills cook great and it is made up of heavy duty materials compared with other grills at this price range.
Overall, it has some flaws but can be offset by its cooking performance and flexibility as well as its durability and lifespan.
A bonus is that when some parts get rusty or damaged which most grills will eventually after several years of use, you can fix it because parts are available for purchase from the manufacturer. Note: Common problem among grill owners that they are forced to buy a new grill because the parts that they need for their grill is not available which shortens the lifespan of the grill, a waste of money and a big hassle.
Advantages and disadvantages
Affordable
Side shelf with utensil hooks
Electronic ignition starter
Wheels
Dual stacks
Stainless steel thermometer
Grease drip pan tray
Side burner
Heats up fast
Keeps constant temperature
Warming rack
Large cooking surface area
Ready for rotisserie
Stay cool hood handle
Comes with cooking grates handle
Cooking grates are easy to clean
Heavy duty cooking grates
Heavy duty grill
Compact design
Solid feel
Secure top rack
All parts are available for purchase when you need them replaced
Directions are not easy to follow.
Assembly is time-consuming for most people.
No handle for moving the grill.
Quite a challenge to get a lower temperature.
When received, parts are covered in sticky metal treatment.
Grease pan is not easy to pull out for cleaning
Gas valve is difficult to reach
Needs a 5-inch allowance at the back of the grill when opening the lid because of the stacks
The side burner can only be mounted on the left side.
The side burner and shelf are not foldable.
Features
As a whole, the Char-Griller 3001 Gas Grill is a great cooking device that provides versatility. It does its job of grilling and at the same time you can warm food on the warming rack, the side burner allows you to cook in a pan, run a rotisserie and sear meat.
It has a battery-powered electric ignition starter that allows you to start up the grill in an instant and heat it up fast. It can heat up to 500 degrees in a few minutes although it can be quite a challenge to get a lower temperature with this grill. It has two stacks on the lid that serve as chimneys and as per the book, these stacks helps heat up the grill evenly.
SPECIFICATIONS
Brand: Char-Griller
Model: 3001
Gas type: Propane
Size: 50" H x 25" W x 42" L
Weight: 88.2 lbs
Burners: Stainless steel
Main burners: 3 burners / 40,800 BTUs
Side burner: 12,000 BTUs
Main grilling area: 438 square inches
Warming rack area: 192 square inches
Total cooking area: 630 square inches
Material: Heavy steel construction and powder coated
Cooking grates: Porcelain-coated cast-iron
Includes: Side shelf with utensil hooks, electronic ignition starter, wheels, dual stacks, stainless steel thermometer, regulator, hose, grease drip pan tray
The grill uses heavy-duty cooking grates that are very solid and are easy to clean. On top of the main grill is a warming rack. The sides feature side table with utensil hooks that serve as your preparation workspace and a side burner that is used for cooking sauces in a pan allowing you to do several cooking tasks all at the same time near the grill saving you time, space, and energy.
The overall built of the grill is reliable. You can tell that the grill is largely made of heavy duty materials. At this price range, you'll be surprised at how well-built and thicker gauge of a metal is used for this grill. Plus, all parts are available for purchase when you need to replace some parts of the grill due to rust problems or damages.
Frequently Asked Questions
Does it have a side burner?
Does it have grease tray?
Is it LP or Natural Gas?
Is the propane tank supposed to fit in the hole in the bottom shelf? What is the long screw for?
Can you cook one burner at a time?
Can the side burner be mounted on the right side instead?
Why put stacks serves on the lid?
Is it high enough to roast a chicken?
Are there interior rocks or simulated charcoal?
What are side shelves made of?
What is the distance between grilling surface to the burners?
Does this come with a regulator and hose?
Can it be converted to natural gas?
Does it include a tool for lifting the grates?
How to put the battery on the ignitor?
Do the side burner and shelf fold down?
What size are the wheels?
What is the side burner used for?