Char Broil Performance 300 2-Burner Cabinet Gas Grill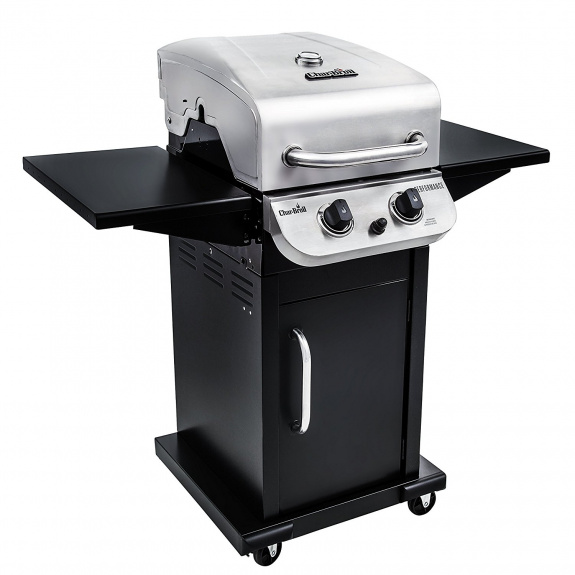 Editor Rating: 5/5
Grilling doesn't have to be complicated. This low-cost grill provides both functionality and simplicity in a grill.
If all you really want is simply to grill conveniently without those fancy options, nothing more and nothing less -- this grill is all you need. 
From assembly to cleaning, this grill is overall simple and convenient to use.
It doesn't have so many features, just the usual additional features like a temperature gauge and folding tables. But it is adequate, it does its job without hassles.
It has a simple lid that opens and closes properly. A durable cooking grates that clean easily and reduces rust. A burner that heats up just in time and can be adjusted using the knob. A grease tray and pan that can easily be pulled out and cleaned. A storage cabinet with enough space for the gas tank with door to cover it up. Sturdy wheels that ensure stability and mobility. Side tables for additional work space. That's it. Seriously, what else do you need? It's all here and it's cheap.
Advantages and disadvantages
Easy assembly
Solid construction
Compact and sleek design
Gas tank storage cabinet with door
Sturdy caster wheels with 2 that locks
Electronic push button igniter
Can also be safely lighted with a match
Temperature gauge
Heats up quickly
Can reach up to 500-600 degrees Fahrenheit
Keeps consistent temperature
Foldable side tables that can be converted to shelves when folded down
Porcelain-coated cast-iron cooking grates
Spacious cooking area
Warming rack
Adjustable to low, medium and high temperature
Cooks evenly
Removable grease tray and pan
Easy to clean
Inexpensive
A little bit hot even on the lowest setting
Features
This is probably the easiest gas grill to assemble, it'll take you only 45 minutes up to less than an hour which is not bad compared with the other gas grill.
The gas grill is made largely of stainless steel which feels solid once fully assembled and does not feel flimsy at all. The outcome looks sleek and compact which you can easily fit in a small deck. The sturdy caster wheels 2 of which can be locked provides stability and mobility. They roll easily on deck.
Overall, the grill is easy to use. You can start it up quickly by using its electronic push button igniter. You also have the option to light up with a match and place it in a hole on the side of the firebox under the side table. This gives you flexibility and another option just in case the battery runs out.
Once the burners are lit up, the grill heats up quickly and consistently and could reach up to 500-600 degrees Fahrenheit. You can use the lid-mounted temperature gauge to determine the temperature and use the knobs to adjust the temperature to low, medium, and high. While the grill heats up, you can use the metal foldable side tables to prepare your cooking tools and ingredients. You can pull the side tables down when not in use and use them as shelves and then place the grill in a corner. Folding down the shelves also allows you to place the grill in a small corner of your deck or kitchen. The grill is 26.5" wide when side tables are folded down.
The cooking area is made of porcelain-coated cast iron grates that help prevent food from sticking or non-stick and makes them easy to clean with better resistance from rust which is a common problem on most grills. Having non-resistant cooking grates increase the life span of the grill allowing you to save money. A warming rack serves as an additional cooking space for you. You could use to warm already cooked food, heat up toasting buns or cook easily burnt food like vegetables. The grease falls safely to the removable grease tray and pan. They can easily be pulled out from the grill and porcelain-coated for easy cleaning.
SPECIFICATIONS
Company: Char-Broil
Contact number: 1-800-241-7548
Model: 463673517
Dimensions: 42.9"W x 24.5"D x 44"H
Weight: 90.5 lbs
Material: Stainless steel
Burners: 2 Stainless steel top-ported burners that deliver 24,000 BTUs of heat
Cooking grates: Porcelain-coated cast-iron
Primary cooking area: 300 square inches or 15.9"W x 18.5"D
Swing away warming rack: 100 square inches or 13.2"W x 7.4"D
Grease tray: 7.7"L x 4.1"W x 1.6"H
Grease pan: 12.47"L x 12.37"W x 3.18"H
Lid and UFC: Stainless steel
Lid-mounted temperature gauge: Yes
Electronic push button ignition system: Yes
Metal side tables: Converts into shelves when folded down
Wheels: 4 casters (2 can be locked)
Note: The grill below is also a Char-Broil Performance Gas Grill however it has 4 burners. The rest of the design is similar with the 2-burner gas grill.
Frequently Asked Questions
How wide is the grill with the sides down?
Does this grill come with a hose to attach to a propane tank?
How long does it take to assemble the grill?
What are the dimensions of the grease pan?
How to contact Char-Broil?
What is the highest temperature for this grill?
Is the back enclosed?
Do the burners have heat tents to prevent flare ups?
What is the chain that hangs from the side for?