Cuisinart CGG-240 All Foods Roll-Away Gas Grill Review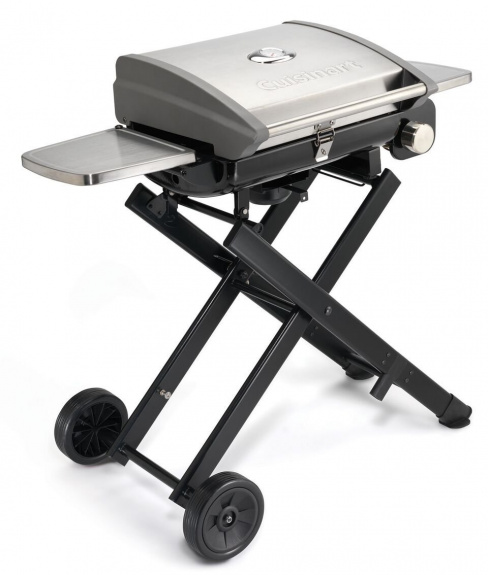 Editor Rating: 4.5/5
Are you always on the move? Take this low-cost portable Cuisinart CGG-240 Gas Grill with you and fuel it up with an easy-to-use, small gas can.
Ideal for picnics, camping, beach and other outdoor gatherings away from home, this gas grill is also perfect for small balconies, patios, decks, and backyard.
It is good looking, compact, feels solid, easy-to-carry, easy-to-assemble, easy-to-use, easy-to-store and good looking. Just pop it open and lock the stand to start grilling and fold then roll with the large wheels to move it and store in a small space.
For a small gas grill, it provides simple yet excellent cooking with ample grilling space that will hold more than you expect. You can fuel it up with a regular sized gas tank or a small portable gas canister. It heats up fast and distributes heat fairly evenly across the grilling surface area.
However, it does have some holes on the sides that makes it not ideal in a windy weather. Although you can always work around this problem by covering those holes up with a foil which is pretty easy to do. Besides, we don't always have a windy weather and who doesn't have a foil in their kitchen. You don't need a large piece of foil to cover those holes up.
It has most of the basic features that large gas grills have like a built-in thermometer on the lid and fold-in side tables. The fold-in side tables slide out smoothly and can hold some weight. However, I wouldn't rely on these tables solely and I wouldn't put heavy items or food on it.
It is quite easy to clean although the grease tray is not properly sloped so there is a tendency that the drippings will get stuck on the tray and may cause some flare ups. It does have a small grease pan below the tray to easily collect grease to keep your space clean.
Overall, this is the best gas grill for me so far. It is flexible enough for my personality as I am able to conveniently grill while traveling but at the same time I can also use it at home with my family of four. In that way, I don't have to buy two separate grills for my home and for my travels. Plus, I have the option to use small gas cans instead of the bigger ones that the larger gas grills use. I've always hated getting the heavier gas tanks filled and don't feel comfortable reattaching the hose and adapter. The grilling area is good enough for me and my family and I've always preferred anything small and lightweight. Lastly, the gas grill isn't expensive.
Advantages and disadvantages
Compact
Easy to assemble
Portable
Versatile
Collapsible stand
Fold out side tables
Large wheels
Handle stays cool to the touch
Lightweight
Good looking
Nice grill marks
Heats up fast
Recovers quickly after opening the cover
Distributes fairly evenly
Easy-to-use Twist Start electric ignition
Plenty of grilling space
Built-in signature hood thermometer temperature gauge
Heavy duty cooking grates
Also works with small, portable gas bottles or canisters
Propane is easy to attach and remove
Easy to operate
Can heat up to 500 degrees
Excellent cooking
Grease tray and catcher
Affordable
Does have some flare ups
No warming rack
Tough to maintain temperature
Not ideal for windy weather
Not the easiest grill to clean
Features
PORTABILITY AND OVERALL LOOK
Among all the gas grills we reviewed, this is the easiest to assemble it will only take you about 5 minutes more or less. The reason for this is because it is a portable gas grill. It should be compact, collapsible, and easy to store so you can easily carry it, put in your vehicle, and quickly set it up.
It has a collapsible stand that is solid but light enough for you to pop open and lock into place and then fold back for storage. The big wheels that come with it make it even easier to carry and even roll on rougher surfaces.
It is versatile because the grill can also be used at home. For those people who are looking for a grill for a very small balcony or deck, this could fit easily. It is also good looking so it can blend anywhere in your house.
To my surprise, this compact grill actually comes with side tables. They are stored in the grill under the lid. Just open the lid and then push them out to the sides. They are firm but won't be able to hold too much weight. It does help a lot for holding light containers, utensils, and spices but I wouldn't rely on putting large pieces of meat on it.
SPECIFICATIONS
Brand: Cuisinart
Model: CGG-240
Weight: 41 pounds
Dimensions:
44 x 23 x 21 inches when folded
41 x 23 x 36 inches when fully open
Cooking grates: 240 square inches, porcelain-enameled cast-iron
Loop burner: 15,000 BTU, stainless-steel
Includes: Stainless-steel folding side tables, built in temperature gauge on lid, grease tray and pan, wheels, foldable stand, start-up igniter
Clearance from grill to lid: 4 inches
COOKING AND CLEANING
Overall, the grill is simple and easy to operate. It is truly made for people who are always on the go.
Personally, I hate anything large and heavy. And as much as possible, I would always go for lightweight and small stuff because aside from the fact that they're convenient, they are also inexpensive most of the time.
If you have this fear for large gas tanks like I do, I highly recommend this grill because it uses those small propane cans that are easy to use. You don't need to set up hoses or adapters that bigger gas tanks require. All you need is a small portable gas can. You don't need to carry around a big gas tank, just simply carry one or two of those small gas cans. But if you prefer the regular sized gas tanks, you can also use them on this grill. Versatile indeed! Just take note that you'll need to buy a hose and adapter to start using the bigger gas tanks.
This grill is also easy to start up. Just twist and use the same knob for adjusting the flame to low, medium and high. It heats up fast, can reach up to 500 degrees and distributes heat fairly evenly. It also quickly recovers when you open the lid every time you need to flip or rotate food.
However, I do not recommend it during a windy weather. It has some holes on the sides that affects the temperature of the grill. You could work around it by putting a foil on those holes. I wouldn't mind doing it whenever the wind is blowing hard because it is easy to do and it is such a small hassle especially for a grill that is very inexpensive.
You could check the temperature using the built-in signature hood thermometer temperature gauge. It gives precise readings helping you track the temperature of the grill and control the intensity of the flame.
The cooking grates are heavy duty and provide nice grill marks and plenty of grilling space ideal for a group or family of four.
Frequently Asked Questions
What is the distance between the legs?
What is the purpose of the chain?
Will it work with a natural gas line?
Can it be used on a wood table top?
Does it have a side burner?
Can I use a 20 lb tank?
Can this grill be connected to RV propane system?
Does it come assembled?
What is the clearance from grill to lid?
Does the stand fold?
What cover is recommended for this grill?
What brush is recommended for this grill?