Fuego Element F21C Carbon Steel Gas Grill LP Review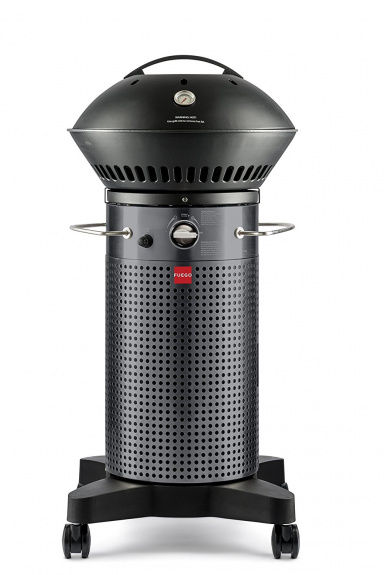 Editor Rating: 4.9/5
Not like most gas grills - uniquely designed and well-thought out. The Fuego Element F21C Gas Grill provides excellent convection-like cooking, can be used for both direct and indirect cooking.
What makes this gas grill unique is that it is shaped like a cylinder. If you are familiar with Star Wars, the grill will remind you of the robot R2D2. Because of its shape and stylish look, you can put it anywhere in your kitchen or backyard and will look nice and not occupy too much space. It has two side handles that serve as a lid rack and also allows you to grab it and easily move the grill anywhere you want.
I know this grill looks different than most grills but actually, the set up of this grill is not new to us at all. If you look carefully, the main grill looks like those barbecue charcoal grills that are shaped like a bowl where the charcoal goes at the bottom of the bowl and then the grill goes on top of it. And at the same time, the lid is just like the lids that you use to cover the cooking pots that in the kitchen. 
Also, the grill is shaped like a cylinder for a reason. The cylinder gas tanks fit in nicely and neatly which is why I think the gas tank compartment of this grill is the best I've ever seen. The circular domed or curved lid allows for proper circulation of heat inside the grill allowing it to reach and maintain high temperatures. It may have uneven spots on the cooking grates which is a common problem among gas grills but the domed lid makes up for this by creating a convection-like cooking set up that produces excellent, juicy, tender, beautifully cooked food. 
I see a lot of people actually complain that the grill does not have a warming rack that most larger gas grills have. If you very much want a warming rack on your grill, you can easily work around this by putting a warming rack on it. You can use the warming rack that comes with your rice cooker. Problem solved!
And for those who are looking for more, the side tables can be purchased separately and installed on the sides of this grill. Also, you can call the manufacturer to get a kit if you want it converted to natural gas.
Advantages and disadvantages
Instructions include a quick start and also detailed one
Easy to assemble
Assembly time: Around 30 minutes
Modern stylish look
Compact
Sturdy
Perfect height grilling
Space saving
Great for corners
Lightweight
With wheels
Ample surface area
Electronic push button ignition

Fuel efficient

Heats up quickly
Heating to temps 500F in just 5 mins & up to 650F max
Able to direct and indirect cooking
Built-in thermometer
Good temperature control
Heavy cast iron grate
Nice grill marks
Food comes out moist
Can use with natural gas by purchasing a kit from the manufacturer
Drip pan is easy to clean
2 handles on the sides that also serve as lid rack
No warming rack
Does not have a built-in table or shelf
The center just does not get hot as the edge
Features
PHYSICAL ATTRIBUTES
This grill is probably the most uniquely designed gas grill. It will remind you of the robot R2D2 in the futuristic movie, Star Wars. It has this sleek modernized look that makes it eye-catching and beautiful you'll surely get compliments from your friends and family in an outdoor gathering.
Furthermore, it does not look flimsy like most standard-looking gas grills. It feels sturdy and you can tell even by just looking at it. This is also one of the most compact, space saving gas grills. When you put it in a corner, it can face left, right, or front whichever way you want. Its height is just right for grilling.
The base of the grill is 21 inches wide which is a major improvement from the previous model. It has wider locking wheels that are made of steel providing stability to the grill and allows you to move it around easily especially since the grill is lightweight and has two handles on the sides so you can easily grab it and move it around.
Assembling this grill will take only about 30 minutes. It is one of the easiest gas grills to assemble. It includes a quick start guide and also a detailed guide whichever you prefer.
COOKING
Overall, the grill provides versatility in terms of cooking.
First and foremost, the fuel tank is placed nicely and neatly under the grill in the cabinet. This is probably the best-looking gas tank compartment I've ever seen for a gas grill.
Just like most gas grills of today, this gas grill uses a push button electronic ignition system to quickly start up the grill. It heats up fast as it uses heat-reflection shield and a domed lid allowing heat circulate in the grill quickly providing a convection-like cooking while minimizing fuel use with 21,000 BTU/hr burner. The whole set up results into a more juicy food and perfectly tender meat.
By the way, some people complained because the lid is unhinged. But in my opinion, it is better that way because lids usually fall off or do not open smoothly after several uses because the hinges easily get rusty. The lid for this grill works just like a regular pot lid so it is really not something new and you can easily hang onto the grill handle.
You may assume that the grill has small grilling area because of its circular shape but you'll be surprised once you see the grill in person. For a small grill, it has a wide grilling area good enough for more than 4 people.
It uses a solid, heavy duty cooking grate made of porcelain-enameled cast iron that produces nice grill marks. However, it does not cook as evenly as you would want it. The center does not get as hot as the edges. However, I haven't come across a gas grill that doesn't have this kind of an issue. Despite the uneven heat, it still provides excellent cooking and is great for both direct and indirect grilling.
It has a built-in thermometer on the lid that provides accurate temperature reading and a valve that allows you to control the temperature from 250F-650F. These two features allow you to have better control on the intensity of the heat when you are grilling.
SPECIFICATIONS
Brand: Fuego
Model: F21C (with many improvements from original 2011 model)
Launched: 2014 in California
Designed by: Robert Brunner (Former Apple Chief Designer and winner of Vesta's Best Gas BBQ & Spark Design Award)
Color: Gray
Dimension: 44" x 21" x 21" 
Weight: 79 pounds
Cooking surface: 346 sq. in.
Cooking grate: 15 lb porcelain-enamel cast iron 
Burner system: 21,000 BTU/hr for up to 50 (20 mins) cooking cycles
Features: Push button electronic ignition, hinged tank storage access door, built-in lid thermometer, easy clean residue tray, easy roll wheels
Assembly time: Less than 30 mins 
Battery: 1 AA
Customer service: 888 883 8346 or info@fuegoliving.com 
Frequently Asked Questions
Is there a natural gas conversion for this?
Does this grill rust?
Does this come with side tables?
Does the handle stay cool?
How tall is the hood?