Coleman NXT Lite Table Top Propane Grill Review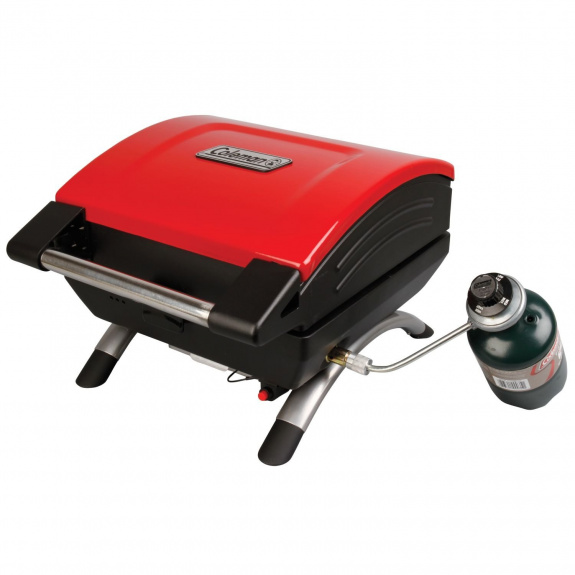 Editor Rating: 4.7/5
Are you looking for a small grill? We recommend the Coleman NXT Lite Table Top Propane Grill. It is portable and can also sit beautifully on your kitchen counter.
What makes this different from the other gas grills we've reviewed is that it is a table top type of gas grill. It doesn't have those bulky body or gas tank cabinets that most gas grills have. All you need to do is put on a flat surface and attach a portable gas canister or refillable gas tanks.
Although the grill is small, it produces plenty of heat and has plenty of grilling space for a family of four. However, it does get extremely hot so if you are inexperienced or haven't gotten used to the grill there is a chance that it might burn your food.
We recommend keeping the temperature at a low setting especially if it is your first time using it to avoid burning the food and to also allow you to adjust the intensity of heat that this grill produces. Rest assured, you won't have any problems with reaching high temperatures with this grill even when you use it in a windy weather.
So far, it appears that simple gas grills like this one get higher ratings from us because we put more emphasis on basic functionality such as cooking performance over those fancy features that are useful, yes but not necessary. 
Overall, this grill does not fail in providing ample amount of heat for cooking - therefore you can rely on this grill anytime, anywhere to cook your food.
Advantages and disadvantages
Easy to assemble
Good looking
Feels sturdy
Compact
Lightweight
Portable
Table top
Easy to store
Secure latch system
Quick push-button start up
Plenty of heat
Settings: Low, medium and high
Cooking area is relatively large
Nice grill marks
Easy to clean grease tray
No built in thermometer
Doesn't heat evenly
Gets too hot at even the lowest setting
Has the capability of being extremely hot
Features
PHYSICAL
The grill is easy to assemble. The only part that needs assembly are the legs which are easy to attach. The outcome looks good. It has a red color that makes it look striking, modern, and stylish. Also, it looks sturdy and well-built.
It feels sturdy and easy to lift. You can carry it anywhere you want because it has a compact size and also lightweight. It has short legs so it is easy to store when you travel. You don't need to set up the stand like most portable grills, just put it on any flat surface and you can start grilling. It even looks good on a kitchen counter.
COOKING
Like most gas grills, it has an electronic push-button that allows you to start up the grill quickly. You can use those portable small gas canisters as fuel or you can also use those heavy refillable gas tanks. It heats up fast and could really reach high temperatures even at a low setting. So, heating up this grill is easy however you have to be careful not to burn up your food. This is why it takes a bit of experience to actually learn and get used to this grill. Rest assured, the wind or any kind of strong weather won't affect the ability of this grill to heat up. It has low, medium, and high settings to choose from to control heat however it does not have a built-in thermometer. The cooking area is good enough for a family of four or maybe more. It produces nice grill marks and the grease tray below the grill is easy to reach and clean.
SPECIFICATIONS
Brand: Coleman
Model: 2000014017
Dimensions: 11.25 x 16 x 18.25 inches
Weight: 20 pounds
Material type: Steel
Color: Red
Fuel: Propane
Grill type: Table top
Burner: Even-Temp burners of 8,500 BTUs 
Grill surface: 168 sq. in. porcelain-coated stamped steel 
Features: InstaStart push-button ignition, Heat core technology, Removable grease management tray, PerfectFlow System
More meal options: Griddle, grill or stove grates
Frequently Asked Questions
Can I use a big propane tank for this?
What do I need to start using the grill?
Does it stay lit even on windy days?
Does it have a warming rack?