Magma Products, A10-803 Connoisseur Series ChefsMate Portable Gas Grill Review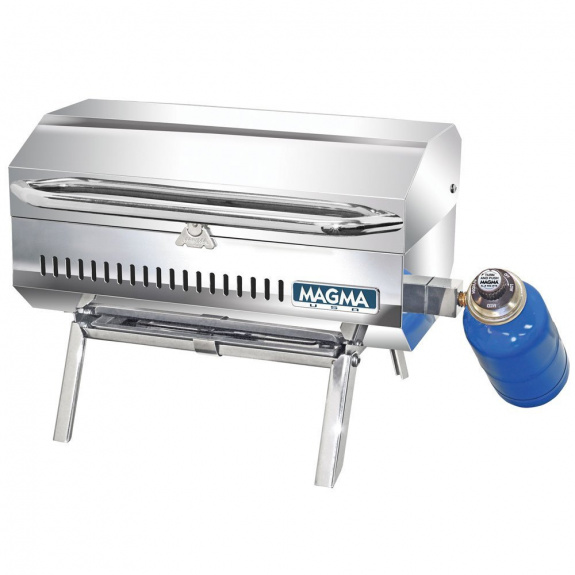 Editor Rating: 4.9/5
Made specifically for boats, the Magma Products, A10-803 Connoisseur Series ChefsMate Portable Gas Grill is naturally rust and wind resistant. You can mount it on a pedestal or railings to keep it secure and at the same time, look pretty on your boat.
Planning on grilling while sailing? You need a grill that does not easily rust when exposed to salt, maintains temperature when the sea breeze is strong and can be mounted on the boat with a lockable lid to keep it secure while the boat is riding the ocean waves.
You have the option to use its legs or fold them away when you don't need them. Other than using it on a boat, you can also put it on a kitchen counter, on a balcony or when you're camping. This grill is flexible for any kind of activities and stays solid in different weather conditions. 
This grill has several unique features that most gas grills don't have. For more details, please read further below.
Advantages and disadvantages
Easy to set up
Can be mounted on a pedestal or boat railings
Simple design
Good-looking
Well-constructed
Fold-away legs
Lockable lid
Easy to store
Portable
Does not easily rust
Every part is replaceable
Easy to operate
Swiveling valve
Quickly heats up
Heats up consistently
Wind tested
Built for boating
Cooks fairly evenly
Large grilling area
Good temperature control
Snap on serving tray with built in cutting board
Easy to clean
3 small easy-to-clean removable grills
Snap out radiant plate
Have some flare ups
No warming rack
Features
Assembly and Physical Attributes
This grill is made specifically for boaters so it has a high tolerance for rust. It has a compact design so you can easily store anywhere or put it on a flat surface with its legs. You also have the option to fold-away its legs if you don't need them. Basically, the grill small enough for travels and easy to lift since it is lightweight.
It is a nice accessory on a boat and will really look great when mounted on pedestal or railings. It is solid, well-constructed, and has a lockable lid so the parts are secure inside the grill if the wind or waves get too strong while you're on the boat.
The grill can last for several years because of its ability to withstand rust but if the parts will need replacement after several years, no worries, all parts of this grill are replaceable.
SPECIFICATIONS
Brand: Magma Products
Model: A10-803
Dimensions: 22 x 14 x 13 inches
Weight: 16.9 pounds
BTU: 11,200
Rack: 9 x 18 inches (162 sq in)
Material: 100% 18-8 mirror polished stainless steel
Gas type: Standard disposable 1-lb propane canisters or adapts to on-board LPG (propane) or CNG (natural gas) systems
Customer service: 562-627-0500 or mail@magmaproducts.com
Cooking performance
The grill is wind tested - this means that the flame in the grill will no go out no matter how strong the wind is going to be while you're on the boat or anywhere outside your house. The grill is purposely wind tested since it's mainly made to allow boaters to grill while sailing.
It has a swiveling valve which is a very nice feature because it will allow you to easily attach the gas canister to the grill without bending your neck or arms. It also quickly heats up and maintains temperature regardless of the weather conditions.
Cleaning this grill is easy because the parts are easy to uninstall and reinstall. The large grilling area consists of 3 smaller grills that are small enough to be washed in a regular-sized sink. The snap out radiant plate and slide out grease tray are also easy to remove and small enough to fit in a sink. Additionally, the grill also comes with a serving tray that has a built in cutting board that also snaps on easily to the front of the grill.
Frequently Asked Questions
Will this mount on T10-185?
Does it come with the control valve regulator?