Lion 32 Inch Stainless Steel Propane Gas Grill On Cart Review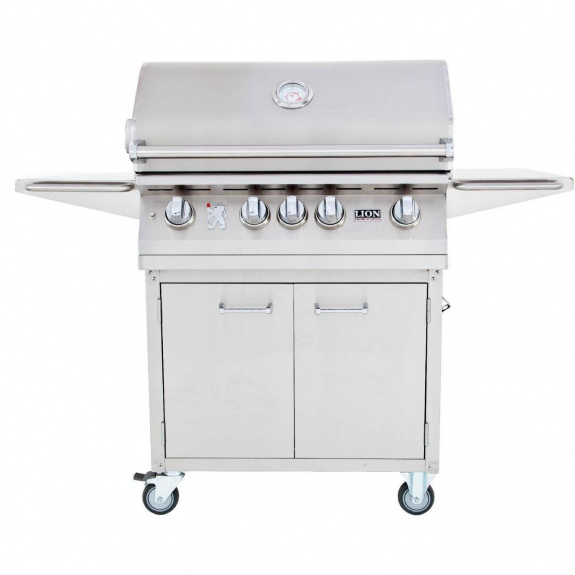 Editor Rating: 5/5
Fully packed with features - the Lion 32 Inch Stainless Steel Propane Gas Grill On Cart is made of high grade of stainless steel that will last for several years.
There are three things that I always look for whenever I buy something for my home. One, lifespan. I want to be able to use the item for as long as possible to make the most out of the money that I will spend for it. Two, features. What makes this better than the other grills. Last but not the least, performance. How well did it do in performing its job?
Overall, this grill meets all of my requirements. If you are willing to spend more in exchange for longer usage, we recommend this grill.
Aside from its durability, the grill is also fully packed with features. This means that you are not only spending more to be able to use the grill for a long period of time, but you are also getting several useful grilling accessories such as rotisserie kit, smoker box, griddle plate and more giving you the capabilities to cook on the grill in several different ways.
So if you can, get it. Stop settling for mediocre products. Go for the best!
Advantages and disadvantages
Fairly priced premium grill
Easy to assemble
High-grade stainless steel
Very durable
Double-lined hood
Easy to operate
Easy to start
Wide steel flame tamers
Heats up quickly
Steady flame
XL temperature gauge
Warming rack
Interior lighting
Smoker box
Complete rotisserie kit
Slide out drip tray
Can be a built in grill or with a cart
Plenty of accessories: Side tables, paper towel holder, bottle opener, griddle remover and cover
Griddle is easy to clean
Rotisserie motor comes off very easily
It can get very hot
Rotisserie sits a bit lot. You'll need to remove the cooking grates when you use it.
The cover only covers the top.
Features
This grill is easy to assemble but it does have a lot of parts to attach to the main body of the grill. But overall, the whole assembly process is not difficult. All parts are solid and you can tell from when you look at it or touch it that they are made of high-quality stainless steel. To be exact, the grill is made up of commercial grade 304 stainless steel construction. This is, in my opinion, the most durable, long lasting among the gas grills we've reviewed.
COOKING
Although the grill looks like its bulky, large, and has a lot of parts, all of its components and features are easy to operate once it is fully assembled. In fact, the optional components like the rotisserie kit and smoker box are all easy to uninstall and reinstall.
It already comes with a regulator. It uses a push-to-turn type of knobs for the 5 valves which is an easier and faster way to start up the grill. Also, it allows you to control the flame for each burner separately.
SPECIFICATIONS
Brand: Lion
Model: 75625 + 53621
Gas type: Propane
Material: Commercial grade 304 stainless steel construction
Cooking grates: 30 X 19 1/4 Inches or 647 square inches premium solid stainless steel
Weight: 254 lbs
Burners:
Four 60,000 BTU cast stainless steel burners
15,000 BTU infrared rotisserie back burner 
Aside from the burners, it has the widest flame tamers I've ever seen. You can be assured that the burners are kept away from drippings allowing it to provide heat consistently and evenly across the grilling surface. You can monitor the temperature by using its XL temperature gauge.
The hood is double lined which helps build up the heat in the grill and sustain it while you're grilling. When you open the lid, you'll find that it has several ways for you to cook on it. You can grill on it and set it up for rotisserie use. You can pull out one section of the cooking grate and replace it with a griddle plate allowing you to heat a pan or fry directly on its surface. The grill also comes with a smoker box if you want to add wood flavor to your food. It also has a warming rack and 2 interior lighting for better visibility for late night grilling.
* The rotisserie kit includes spit wand and forks, rear ceramic infrared burner and stainless steel motor.
ACCESSORIES
You can use this like a built-in grill in your kitchen or use its cart for mobility in your backyard or on your deck.
Finally, this grill has the most number of accessories or additional features among all the gas grills we've reviewed. It has side tables, paper towel holder, bottle opener on the side of the grill, a griddle remover with built in bottle opener, and a cover.
Frequently Asked Questions
What are the dimensions without the side shelves?
Can it use charcoal?
Can I set up for rotisserie?
Does it have a side burner?