5 Best Night Vision Binoculars for 2021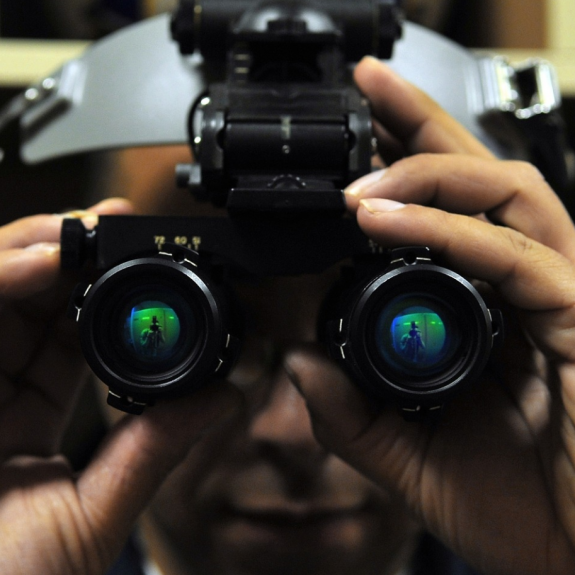 Are you interested or curious about night viewing? Do you want to go star gazing? Do you want to be able to observe animals or people without getting detected?
Are you a cop who works at night? Are you are a farmer who needs to be able to watch over his farm at night?
We have come up with a list of the best night vision devices that are not very expensive but can still provide you with high-quality night viewing capabilities. Let's look at the some of the overall features and capabilities of the night vision devices we hand-picked.
The night vision binocular should be able to let you see in total or complete darkness.
This is the most important feature that we are looking for in a night vision binocular. Some night vision devices do not have an IR illuminator that helps in letting you see in total darkness. So, all of the night vision binoculars that we selected have an IR illuminator.
Some of you may be wondering how an IR illuminator works. In complete darkness or low-light conditions, the IR illuminator illuminates the surroundings with its IR or infrared light. The intensifier tube inside the device intensifies this light to produce a bright, detailed image. IR or infrared light is invisible to the human eye so you won't get noticed when you use it.
Viewing range or the distance that the night vision binocular can cover.
The human eye has its limits especially at night which is why binoculars were invented. Out of all the night vision binoculars in the market, we selected the ones with longer viewing range. The ones that we have on our list can range from 75 yards up to 200 yards.
Field of view or the angular view that the night vision binocular can cover.
Aside from long distance viewing, you would also want to be able to have a wide field of view. Binoculars usually feel like a "tunnel vision" so it is important to find binoculars with a tolerable or decent field of view. The field of view on our list of binoculars ranges from 12.5 to 94 degrees.
Below is a list of 5 night vision binoculars that will work in total darkness at a reasonable price.
Lens diameter or how big the objective lens is.
The lens diameter is a very important factor when selecting a night vision binocular. Since you will be using the binocular at night, you'll lenses that will be able to absorb light as much as possible. The lens diameter on our list ranges from 20 to 50 mm.
The housing or what kind of materials were used to construct the binocular and what type of resistance can it provide.
Most people would want a rubberized finish as they are soft and grippy at the same time. We would also want to know how solid they are and are they fully sealed. These factors help us determine if it can resist water, dust, impact, drop, weather, fog, and more.
Type of battery, runtime, and accessories
These night vision binoculars run with batteries and are going to be used in deserts, rainforest, or remote places where batteries are rare or not available. As an explorer or whatever type of user you are, you would want to be able to use the binoculars for as long as possible. How long can it run with or without using the IR illuminator? IR illuminators can be battery draining so having a battery-saving IR illuminator is a big plus. The runtime of these devices can range from 20-80 hours.
Night vision binoculars are generally expensive and if they come with accessories such as a bag, cleaning cloth, head mount or tripod accessories; it offsets the money that you'll spend.
Size, weight, and ease of use
To complete the overall experience, you would want binoculars that are easy to use with your hands. The questions are: Are they easy to hold? How heavy are they? Are they easy to use? And more!
Price
Last but definitely not the least. You want the best ones but you don't want to spend too much. You found cheap binoculars on the internet, but you are afraid that they are fake or useless. Let's face it, the price is important in making a decision but so is the quality of the product. We are here to help you make a balanced decision!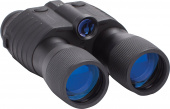 This night vision binocular is best for action-packed activities and extreme conditions as it is lightweight, covered with anti-slip rubber, can be mounted on a head strap or tripod and is also weather and water resistant. In terms of vision, this binocular has the widest field of view at 94 degrees and uses AAA batteries that are cheaper than CR123A and easy to find in supermarkets. Overall, this night vision binocular has all the essentials needed for proper night viewing at an affordable price.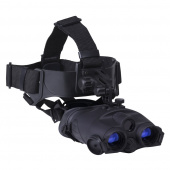 This night vision binocular is arguably the most flexible and convenient to use. It features a Dual Diopter Adjustment that allows you to adjust the lenses according to your vision. It is not limited for night viewing only. Its lens caps have pin holes that protect it from daylight allowing you to use it for daytime viewing. This, combined with a 1x magnification and head strap allows you to move around comfortably with accurate depth perception for prolonged period without straining your hand, head or eyes.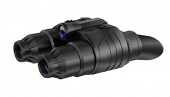 Unlike most Gen 1 night visions, this binocular provides better clarity on the edges of the images it produces. It has one of the farthest viewing range at 90 yards or 100 meters and comes with a built-in automatic bright light exposure protection to protect it from unexpected, sudden exposure from bright lights coming from car headlights, house lamps, etc. Furthermore, it has probably one of the sturdiest built as it uses metal and reinforced fiberglass plastic material that is fully sealed making it water and dust resistant. Even with a sturdy built, the binocular remains lightweight and ideal for prolonged use.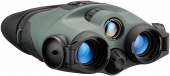 If your priority is to be able to view the farthest distance at night without spending too much, this binocular is for you. It covers 200 yards and currently the cheapest binocular on our list. Other than that, it has so many other features that you won't find in more expensive binoculars such as battery-saving IR illuminator, daytime viewing capability, Eclipse protective lens caps, great accessories, and dual eye diopter adjustment. For more details, click here.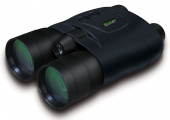 To put it simply, this binocular provides images that are almost similar to a Gen 2 or higher night vision devices. If you are desperate in having a Gen 2 or higher night vision device but could not afford them, this Gen 1 Binocular is your best alternative. This device is so well-thought out, you'll know that it is uniquely constructed just by looking at its specifications. It provides the highest magnification of 5x coupled with the biggest lens at 50 mm.
CONCLUSION
Each night vision binocular is different and they all have special qualities and strengths that are unique.
If you are a newbie and you want to try using night vision binoculars for the first time, we recommend the Night Owl Pro Nexgen because it has only one focusing wheel for both lenses which makes it really easy to use. Furthermore, it has one of the best if not the best visions in total darkness.
If you would like to be able to adjust the lenses separately, we recommend the binoculars with Dual Eye Diopter Adjustment feature such as the Firefield Tracker Night Vision Goggle and Yukon Tracker Night Vision Binocular. This is ideal to those who have different visions on their left and right eye.
If you are looking for:
Longest viewing range - Yukon Tracker Night Vision Binocular
Widest field of view - Bushnell LYNX Night Vision binocular
Highest magnification - Night Owl Pro Nexgen Night Vision Binocular
Better clarity on the edges - Pulsar Edge Gs Super Goggle
Accurate depth - Firefield Tracker Night Vision Google (For those who are on the move while wearing a binocular.)
A little bit of everything - Bushnell LYNX Night Vision binocular
Tripod mountable - Bushnell LYNX Night Vision binocular
Head mountable - Firefield Tracker Night Vision Google, Pulsar Edge Gs Super Goggle
Binocular with head strap - Pulsar Edge Gs Super Goggle, Firefield Tracker Night Vision Google
Cheapest (as of writing) - Yukon Tracker Night Vision Binocular
All night vision binoculars on the list use CR123A battery except Bushnell LYNX Night Vision binocular that uses AAAs.
All have IR illuminator for bright, detailed viewing in complete darkness.
I trust that this detailed article will help you make a smart decision in purchasing a night vision binocular.