Bushnell LYNX Gen 1 Night Vision Binocular, 2.5x 40mm Review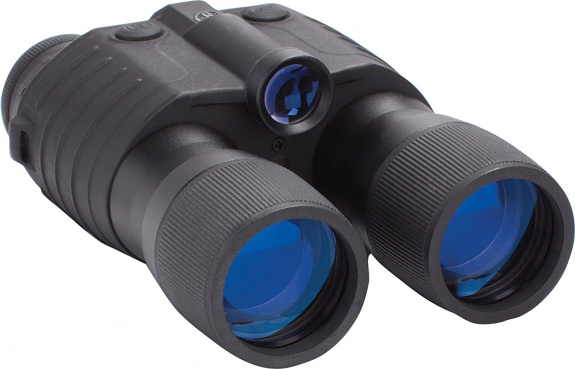 Editor Rating: 4.5/5
All the essentials for night viewing at an affordable price - the Bushnell LYNX Gen 1 Night Vision Binocular described in one sentence. 
The device already includes an IR illuminator that can be switched on and off to save battery. This feature allows you to view in complete darkness with a wider field of view, longer viewing range and brighter image than an ordinary Gen 1 night vision device.
Physically, the device is ideal for long hours of night viewing without stressing your hands because it is lightweight and covered with anti-slip rubber. Furthermore, you can mount the device using a head strap or on a tripod. The device is also made up of sturdy materials which you can easily feel with your hands. It is weather and water resistant so you can use it in extreme conditions.
Finally, the device could run for 70 hours if infrared is not used and 20 hours if all features are fully used which is not bad especially since you only need two AAA batteries to power it up.
The only thing about this night vision device which is a common problem on most night vision devices is that it cannot be used at daytime because bright lights or daylight can damage the intensifier tube. Some night vision devices have features that block extreme light or auto shut off the optical system to prevent damage to the intensifier tube at an additional cost. We do have a night vision device on our list that has this feature and we'll post it later on.
In the meantime, the Bushnell LYNX Night Vision Binocular is a great option for those who are looking for a capable night vision binocular but on a tight budget.
Advantages and disadvantages
Great visibility in total darkness
Affordable
Feels sturdy
Detailed instruction manual
Lightweight
Easy to use
Water resistant
Weather resistant
Wide field of view
Built-in infrared
Anti-reflection coated glass lens
IR illuminator can be turned off
90 yards or 750 feet viewing range
Tripod mountable with optional adapter
Rubber armored
Ergonomic design
Battery life: 20-70 hours (70 hours when infrared is not in use)
94-degree wide field of view
Needs to be refocused
Cannot be used at daytime
Cannot be zoomed
Features
The Bushnell LYNX Gen 1 Night Vision Binocular produces HD image clarity and increased overall brightness allowing for great visibility in total darkness that can range up to 90 yards or 750 feet with a 94-degree field of view (the widest field of view in our list of night vision binoculars). All these are achieved because of the following features:
Anti-Reflection (AR) glass lens coating - When the light comes in, the coating reduces reflection or eliminates stray of light thus improving efficiency.
Gen 1 Analog Intensifier Tube - Intensifier tubes are critical in being able to see in low-light or completely dark conditions. What it does is it intensifies whatever small light is available and converts it into a clearer image allowing you to see more vividly at night.
These tubes are classified in generations. Each generation produces images of different levels of sharpness, range, clarity, brightness, and ability to amplify light. Gen 1 is the most widely available while higher generations are regulated and more commonly used by the military.
SPECIFICATIONS
Model #: 260401
Company: Bushnell
Generation: Gen 1
Dimension: 6.5 x 6.3 x 3 inches
Weight: 1.1 pounds
Magnification: 2.5x
Lens diameter: 40 mm
Viewing range: 90 yards or 750 feet
Field of view: 94 degrees/94ft @ 100yds/31m @ 100m
Battery: 2 AAA (not included)
Runtime: 20-70 hours (70 hours when not using infrared)
Casing: Rubber armored
IR Illuminator: Yes
Coated lens: Yes
Mountable: Yes
The Bushnell LYNX night vision binocular utilizes a Gen 1 Intensifier Tube and produces a sharp image in the center and blurry edges similar to all other Gen 1 Night Vision Devices. However, it's viewing range is much farther (up to 90 yards or 750 feet) because it has a Built-in Infrared Illuminator.
The Built-in Infrared Illuminator is a critical factor in being able to see in complete darkness where no small amount of light is available. The Infrared Illuminator uses infrared light as a source of light in complete darkness. Infrared light is invisible to the human eye allowing you to observe at night without getting detected. This is an ideal situation if you want to observe at animals scaring them away. To conserve energy, the Bushnell LYNX night vision device has a switch for the Infrared Illuminator. You can turn it off when you don't need it.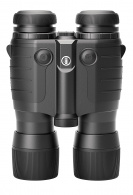 On the outside, the Bushnell LYNX night vision device is durable and handy. It is rubber armored, ergonomic, and lightweight so it does not easily slip off your hands. If the night gets a little foggy and rain pours in the rainforest while you are animal watching, you can still continue using the device and be able to see just the same because it is weather and water resistant. You can also mount it on a tripod or like a head mount so your hands are free alowing you to eat or carry something else while you're at it. It is also extremely easy to use with detailed instruction manual so you can get started easily when you receive the device.
Finally, the device requires two AAA batteries which is not included but you can easily but it in a supermarket at a cheap price. The battery could power up your night vision device for 20-70 hours. 70 hours if infrared is not being used.
Frequently Asked Questions
Can I use it for star gazing?
Can I use it at daytime?
Can the IR illuminator be turned off?
Does it have great visibility in total darkness?
Does it come with eyepiece covers?
What is the color of the image?
Can you zoom?
Can I use it from a lit room and look outside into the darkness?
How heavy is it?
How far can I see in the dark?
How long is the battery life?
What type of battery does it require?
Does it include the batteries?